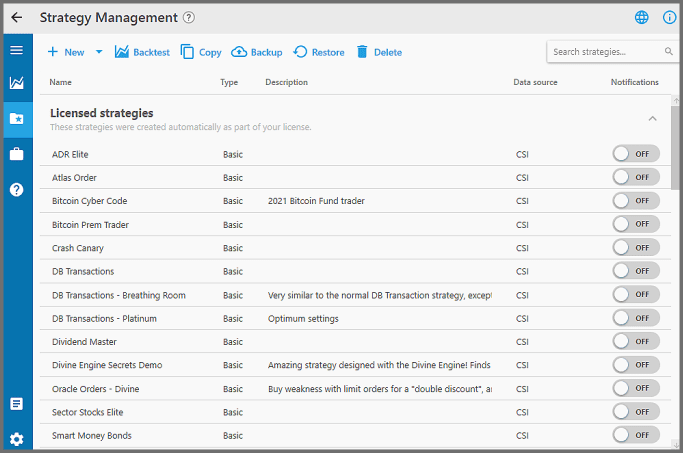 This page lists all the strategies you have, either the ones bundled with your license, or those you created yourself. To open this page, click the "Strategy Management" button

at the left sidebar.
This is where you choose a strategy to be used in your trading. It also allows you to manage your strategies: create and delete a strategy, duplicate it, create a backup file, or reset a strategy to its default settings. Please refer to this guide on how to manage your strategies. This page here is just the general overview.
---
All strategies bundled with your license are listed under Licensed strategies group. These licensed strategies are created by the Portfolio Boss team. They have been backtested thoroughly, and put to test with real money, so you know you're in the right hands when using these strategies.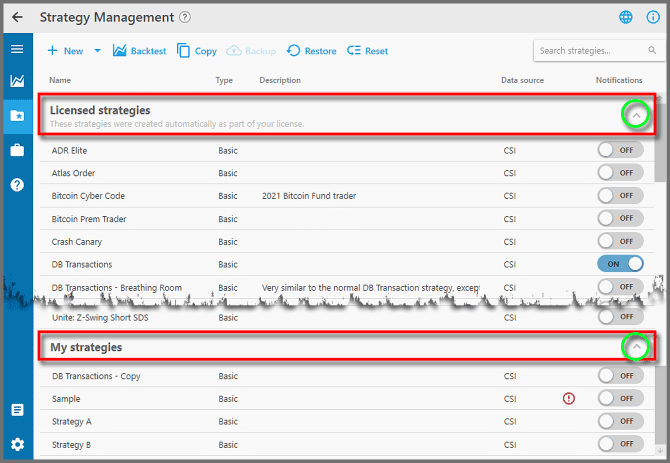 Any strategies that you created yourself (or if you duplicated any of the licensed strategies) are listed under My strategies group. You can expand or collapse (twirl up or down) any of these groups by clicking the arrow button at the far right of the group's name.
The strategies are described in six columns:

1.  Name: shows the strategies' names.
2.  Type: shows the type of the strategies, either "Basic", "Multi", or "Meta". We will discuss this in a next page.
3.  Description: shows the description of each strategy.
4.  Data Source: shows the data source for the strategy's Portfolios; either CSI or Yahoo.
6.  Notifications: turn ON any of these toggles to receive trading signals (via e-mail) from that strategy. This is similar to the Send Notifications toggle in the Backtest Strategy page.
5.  Warning Circles: if a strategy contains errors (for example, it doesn't contain any portfolios, or its parameters are incorrectly set) a warning circle 

will appear on this column. Hover your mouse over this circle and it will show you the errors of that strategy.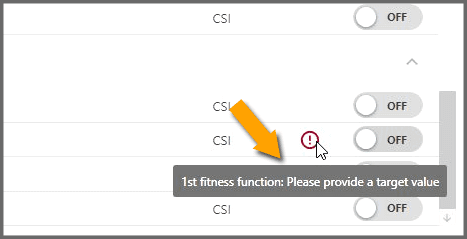 Additionally, you can search any strategies by typing on the "Search strategies" field (at the top-right corner). Strategies that match your search term will be listed under their respective groups. To view the full list of strategies again, clear the search term.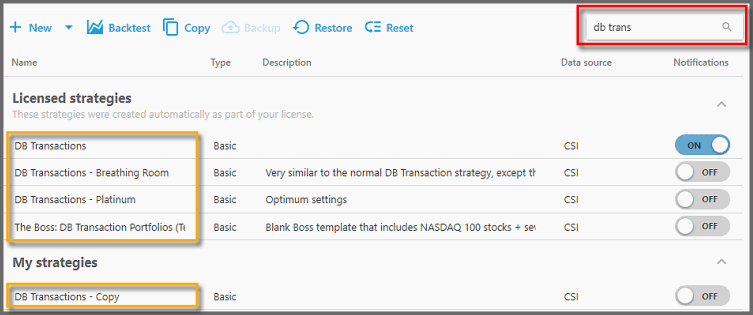 ---
Notes:
The strategies are sorted top to bottom based on their names (alphabetically). When you duplicate or create a new strategy, it may not be sorted in the right order. Simply revisit this page again (after opening the Backtest Strategy Page for example), and it'll be sorted correctly.
You can right click any of the scrollbars (throughout PB), and a context menu appears. "Scroll Here" lets you scroll the content to to the location you right clicked at. "Top" scrolls to the top of the content; while "Bottom" to the bottom. "Page Up" reveals a part of the content upward starting from where it was hidden, while "Page Down" reveals the content downward. "Scroll Up" scrolls upward by a little increment, while "Scroll Down" scrolls downward a little step.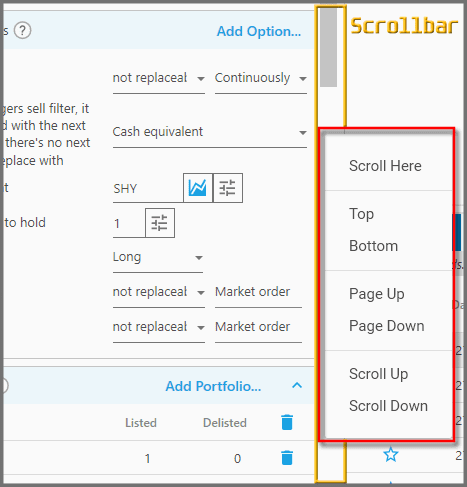 Horizontal scrollbars have different options' name, but the idea is similar.