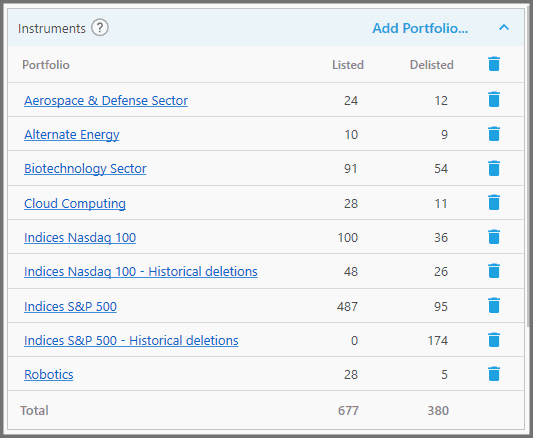 This panel is located at the Rules Area of the "Backtest Strategy" page.
Here you can add the various portfolios for the strategy. All instruments within these portfolios will be considered to be traded. If any instruments pass the Buy Filters and rank highly based on the Ranking Rules, they'll be entered as positions.
By default, this panel is collapsed. There's an arrow button at the top-right corner, to expand and collapse the panel to abbreviate its contents, and save up some space.
---
1.  To add the portfolios, click the "Add Portfolio" button (at the top-right corner). 
The "Add Portfolios" dialog shows up, that lets you search and select the portfolios. Once certain portfolios are ticked (checked), you can enter another search term to find and tick other portfolios. Then press OK to add them all to the strategy.
Note, any portfolios already added to the strategy will not show up on this dialogue.
---
2.  To view the instruments contained in each portfolio, click the portfolio name (blue colored). A pop-up appears.
The description of each column (on that pop-up) is similar to the Portfolio Instruments Panel. But here you can only view them; you can't manipulate the instruments in any way (use the aforementioned panel for that).
---
3.  To remove a portfolio from the strategy, click the trash-bin icon next to the portfolio. 
Or, you can click the top-most trash-bin icon to delete all portfolios at once.
---
4.  The "Listed" column shows the amount of actively traded instruments in each portfolio.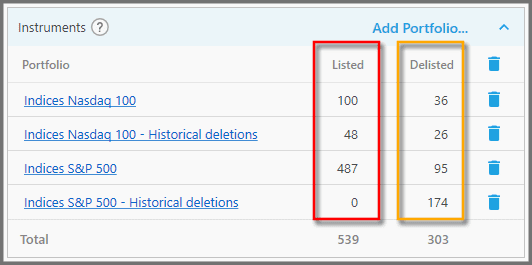 Whereas the "Delisted" column shows the number of instruments that are no longer traded in the exchanges.
---
5.  The "Total" amount (at the bottom of this panel), shows the total number of "Listed" instruments from all portfolios. "Delisted" instruments have their total too.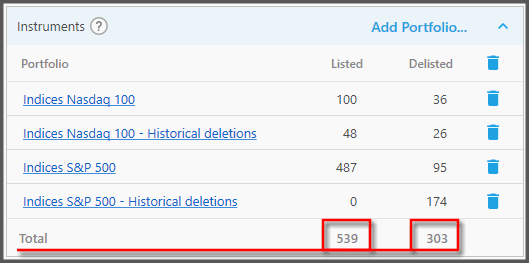 If a single instrument is contained within multiple Portfolios, PB only counts that instrument as one, disregarding the duplicates. PB does not enter duplicate positions from the same symbol (unless it's a cash-equivalent).
Note, the "instruments listed" and "instruments delisted" numbers as shown when this panel is collapsed are calculated similarly as in this "Total".

---
Note:
This panel may show instruments data being downloaded:

If that's the case, you must wait it out before you can backtest the strategy: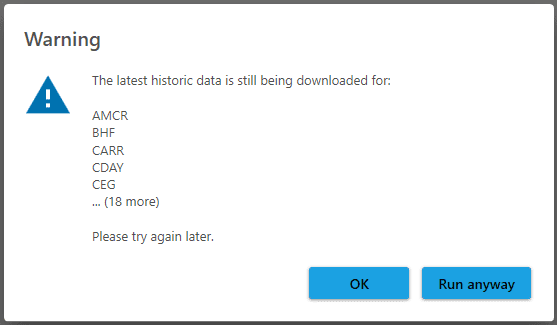 Now sometimes you still can't backtest the strategy despite PB not downloading anything. You can just click "Run anyway", or restart PB to see that dialog above doesn't bother you anymore.